Accidental Grace: Selected Poems and Prose by Ann Slayton
$17.95
81 pp. + xii, 5-1/2 x 8-1/2, Paperback (French flaps). ISBN: 978-1-928755-54-8
$17.95 USD.  postage free in the U.S.
Ann Slayton's Accidental Grace is characterized by a precision of detail and cadenced rhythms as poems and prose move between meditative explorations,
inventive richness, and social satire.
In poetry and prose, Ann Slayton takes on wide-ranging subject as she imagines herself into an array of historical and fictional voices — rarely does she write in first-persona. Among those voices are Anne Bradstreet (1612-1672), Hester Prynne's young daughter Pearl, even Henry Moore's great Sculpture in "Reclining Figure at Lincoln Center." In "Western Primitive," an ironic satire of White cultural dominance, frontier photographer Ben Wittick poses Geronimo, Chief Strange horse, and Calamity Jane in his studio.
"Calamity," he says, "I don't know what Wild Bill
Sees in you. I hear they call you
The White Devil of the Yellowstone.
Now shoe me what the damned creature looks like.
And hold it."
In the prose meditation "Nothing Again is Happening," the "We" of "We are sitting by a country pond on a summer afternoon, alert to everything that is happening," is the poet's two selves: the first delights in a metaphoric and sometimes wild ranginess, while the second responds impatiently to such flights of the imagination: "The day is so magnificent just the way it is. You don't have to work so hard. Let it be!" "Aren't we by nature, spinners and weavers," the first self replies. Back and forth they go, neither convincing the other.
To read "Western Primitive," "Every One Was a Real One But Gertrude," and "Above the Brim: Craftsbury Common, Vermont," click here for PDF.
Read Ann's interview with Deborah Kalb at Books Q&As:
________________________________________________________________________________________________________________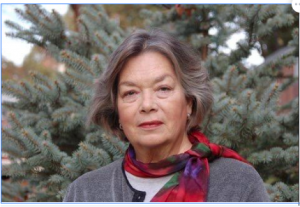 Ann Slayton is the author of two chapbooks, The Music Beginning Here and Catching the Light. She was engaged in writing and editing in her public affairs work at the U.S. Department of Health and Human Services and has been active in community arts projects. Her poems and essays have been published in literary/arts journals, among them, Ms Magazine, Southern Poetry Review, Poet Lore, and several anthologies. She and her husband live in Takoma Park, Maryland, and divide their time between Takoma Park and Craftsbury Common, Vermont.